Sabbath Day, September 10th, 2011/11:00am EST~Deltona, Florida, USA
It has been said by them of old time:
 "Train up a child in the way he should go and when he is old, he will not depart from it."
I am old.  I am pushing 50!
My parents, for the most part, did a good job of raising my three siblings and myself but I have to admit, I've always felt torn between which set of footprints to follow—my Mom's or my Dad's.
Growing up, Dad was like an un-touchable, un-approachable God.  He was the Paddock Prince-Potentate; a drop-dead, gorgeous hunk that women swooned over.  He was rich, well-dressed, well-liked and most of all, he was loved for his food at The Paddock Restaurant.
Mom was a full-time homemaker & full-time seeker of truth when we were growing up, and in her last years of life, a full-time missionary to the homeless of San Diego and the orphans of Baja, Mexico.   Because of my Mother's determination to find God, we traversed a gauntlet of many various religions, beginning where my folks were married, at Self Realization Fellowship in Encinitas, California, on September 30th, 1963, and later, dipping into Mormonism, Jehovah's Witness, Atheism and Astrology, finally arriving at Christianity when I was 11 years old in 1975, after we moved from Encinitas to Cardiff-by-the-Sea.
I was 26 years old when Mom died on October 24th, 1990.  She was only 48.
My Dad is still alive, working full-time as a chef and kitchen manager as well as a part-time minister to the elderly and to prison convicts.  Dad will be 70 on February 18, 2012 but he looks like he is not yet 60!
As of the date of this writing, I am 47 years old, living in Central Florida,  busy trying to re-invent myself for the next stage of my life—my late middle age years.
This morning as I've been busily researching and preparing this post about bread, I happened upon connections to other subjects I am currently deeply interested in!  I'll explain….
A few hours ago when I googled "The Staff of Life", the FIRST thing to come up in the search is a very well written article in the publication: "The Melrose Mirror".  (see the article below  by Margorie Burgess)  The thing that blows my mind,  is that I WAS BORN IN MELROSE, MASSACHUSETTS!  And if you read my post yesterday then you already know that I have been very busy researching my Scottish roots, via my Grand Mother, Mary Elizabeth Gray, who by the way is ultimately the reason for my having been born in Melrose.
Here below are three significant articles that I turned up in my research to find out more about The Staff of Life.
The first covers the history of flatbread, as relative to my Scottish connection.
The second article is the one already mentioned above and is a wonderful read about the history of bread in general, as well as the author's story of her love for the local bakeries she frequented as a child growing up in a suburb of Boston, during the period between World War I and World War II.  In easy-to-understand words she makes a great case against mass manufactured baked goods and at the same time, a positive one for old-fashioned, Mom & Pop style bakeries.
The third and last article is one I found in my original google search for The Staff of Life and is a scholarly study of Jesus as the spiritual staff of life.
Bannocks, branders, bannock spades and stones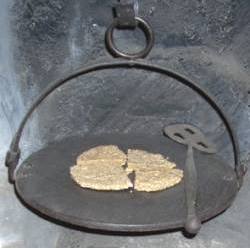 Flat bread cooked on a metal plate over a fire may seem like a simple style of baking, but there are some even more basic ways of turning flour into bread. Ancient alternatives include laying the dough on hot embers, or even in amongst the ashes. You can also bake dough on a hot stone placed by an open hearth or balanced over flames.
In many parts of the world flat bread is just as common as oven-baked bread – or more common. In Scotland, it remained an everyday recipe for longer than in many parts of the English-speaking world. Many households, especially in rural areas, had an open hearth well into the 19th century, some also in the 20th. There and in other regions of northern Europe baking was often done on fires burning peat.
Oat and barley bread was made on a metal "brander" or girdle (also called gridiron or griddle) hanging over the fire on a chain and hook, called a swey in Scotland if it was hinged and adjustable. Before metal girdles were standard household items, bread was baked on a stone set at the fireside: a bannock-stane or bannock-stone. The dough sometimes used a proportion of pea flour.
Bannock is the traditional Scots name for bread made this way, which can range from sweet fruit loaves raised with yeast through soda-raised scones to thin flat oatcakes. Ancestors of the word bannock include Gaelic bannach and Latin panicium.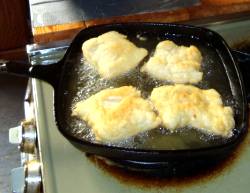 The name travelled with Scots settlers to North America where bannock now means a kind of "fry-bread", cooked in a fatty pan over direct heat, known in Canada and the USA. (See picture right.) Whether the settlers taught the aboriginal peoples to cook this bread is disputed. Almost certainly they already had similar ways of preparing food, but with different ingredients.
Scottish bannocks are not fried in fat, but the girdle used to be greased with mutton fat to prevent sticking. A bannock spade (see picture above) was used for turning and handling the bread, a bit like a spatula or an oven peel. These were often heart-shaped and a traditional Scottish lover's gift – from man to woman, of course.
...village bread…is made in large round scones, hardly thicker than a sheet of brown paper, and cooked for about forty seconds on an iron griddle.
Mrs. W. M. Ramsay, Everyday Life in Turkey, 1897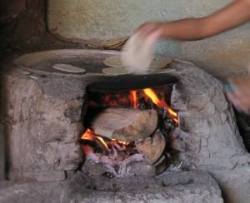 Many grains with low gluten content that could not rise if mixed with yeast make good flat bread: millet, buckwheat etc. Flour from roots can also be made into bread by the bannock treatment – tapioca flat breads in parts of the Americas are an example.
Tef [Eragrostis abyssinica]…is primarily processed into a pancake-like, fermented flat bread called injera and can be mixed with sorghum and pearl millet for another flat bread (kisra) in Sudan and Eritrea.
P. Belton, J. Taylor, Pseudocereals and less common cereals, 2002
Bread – The Staff of Life
… and the taste of it was like wafers made of honey
Bread has been a food staple since the beginning of recorded time. The ancient Egyptians baked bread before the 20th century B.C. Fragments of unleavened bread have been unearthed among the ruins of the Swiss Lake Dwellers in the earliest civilized communities of Europe. There were public ovens in the Republic of Rome and the bakers of Greece were world famous. Bread has been referred to as the staff of life. It has been written that a substance called manna was sent down from Heaven to feed the Israelites in their journey through the wilderness. "And it was like coriander seed, white; and the taste of it was like wafers made of honey." Bread was made at home or in small bakeries until the end of the 19th century.
Shortly thereafter, bread factories made their appearance. Mixing machines, chain conveyors for carrying the dough, cooling and slicing machines, temperature-controlled ovens, and other time-saving devices replaced the bakers.
Around World War II, a whiter flour was introduced that successfully eliminated all the vitamins and minerals from the flour. The U.S. Government, as a public health measure, required that the missing vitamins and minerals be replaced. This was the beginning of the "Enriched White Bread".
Many times, between World War I and World War II, I would be sent to a local Jewish bakery for a loaf of the most delicious dark rye bread. The loaf was large and round. The bread would spring back when pushed in with a finger. There would be a delightful crunch when one would bite into the shiny brown crust. Its pungent aroma carried me home as quickly as possible. My mother would cut a slice of this home-styled bread, filled with caraway seeds, for my sister and me. It would be covered with freshly ground peanut butter from the local butter and egg store, purchased recently and carried home in its small cardboard container that was shaped like a small boat. We would feast on this treat with a glass of milk, convinced that all was right with the world. Then we'd go outside to play.
As the years passed, most of the small bakeries all but disappeared. We would be forced into buying this white cottony substance that had no taste or smell. It weighed so little that one could easily carry three loaves at a time. If you were to squeeze it, the dent would remain. If the sandwich filling was moist, like chicken salad, the bread would shrink to the thickness of one quarter of an inch.
There are, however, a number of advantages. Bread made with this pure white, reconstituted flour did nothing to add to or subtract from the taste of the sandwich. Bread will stay fresh, soft, and fluffy for a long time. I have read that rodents refused to eat the flour. Perhaps they were concerned with vitamin and mineral deficiency.
After World War II, we settled in the suburbs of Boston and lived near an old-fashioned bakery owned and operated by a Victorian couple. Mrs. Meister was a tiny lady who dressed consistently in the Quaker style, dark clothes, covered by a full, white, pleated apron. She wore black, high buttoned shoes or at other times, a pair of mis-matched comfortable slippers, one slipper was red, the other, blue, to the gentle amusement of her customers. She sported a black, pork pie hat, adorned with a bit of veiling. A new feather or a flower would renew her hat. A very frugal individual, indeed.
We did not see Mr. Meister. He worked all night baking those wonderful breads, cookies, pies, and assorted pastries. In the early morning, Mrs. Meister would take over the duties of the day, wrapping the previously-ordered items, slicing the bread, if it were cool enough, but never slicing the raisin bread, for fear that it might jam her work-worn slicing machine. She would carefully arrange the doughnuts and those huge sugar cookies and hermits, that cost but a few pennies and were the special treat of the children. A specific number of loaves of bread would be baked each day. Most of the regular customers ordered beforehand. The shelves would always be empty at closing time. Their baked goods were not fancy to behold, but oh, how satisfying to the taste. When prices had to be increased, she would reluctantly raise the price a penny or two.
It has been 30 years since we have had such a wealth of wholesome baked goods available to us at the foot of the hill. We would walk into that nineteenth century bakery, converse a bit and return with a bag full of unadulterated delicious breads and assorted pastries made in the old-fashioned way, using only nature's grains and foods.
When one goes to the supermarket today, we are advised to read the ingredients, a long tongue twisting, bewildering list of chemical additives. Many of us do so with a sense of helpless confusion. This scientific list of elements are largely unknown to us. They are written in the smallest print possible on a cake or bread wrapper of see-through plastic. We are assured that these ingredients mean us no harm, that they enhance the flavor, prevent the goodies from spoiling, and also add to the looks of the finished product.
Who are we, the citizens of the United States, to doubt the wholesomeness of said item, guaranteed by the authority vested in the United States Department of Agriculture?

by Henry Morris, Ph.D.
One of the most amazing of the "I am" claims of the Lord Jesus Christ is found in John 6:35:
I am the bread of life: he that cometh to me shall never hunger; and he that believeth on me shall never thirst.
It is obvious that this assertion, like His other "I am" claims ("the light of the world," "the door," "the true vine," etc.), has to be interpreted spiritually.
Or does it? There may be more here than meets the literal eye, in light of the often ignored truth that Jesus Christ is both our Creator and Sustainer. Remember Colossians 1:16-17, which reminds us that "by [Christ] were all things created, . . . And He is before all things, and by Him all things consist."
Bread in Human Life
Bread in one form or another is beyond question the most basic form of food in practically every human society, past or present, so much so that it is often called "the staff of life." Fossilized cakes of bread have even been found in a number of ancient archaeological sites. In the Bible the term "bread" is sometimes used to refer to food in general and is often used symbolically also.
Although the first foods mentioned were the seed-bearing herbs and fruit trees (Genesis 1:29), it is clear that man's basic foodstuff was bread. This becomes clear when God pronounced His great Curse on man and all man's dominion because of sin. ". . . cursed is the ground for thy sake; . . . In the sweat of thy face shalt thou eat bread, till thou return unto the ground . . ." (Genesis 3:17,19).
Bread has been made from many different kinds of grain, with the wheat or barley or other grain first grinding the grain into flour, then mixing it with water, then baking the resulting dough and forming it into cakes or loaves. Various other ingredients are often added to produce different varieties of bread, but each type of bread so made almost inevitably becomes the most essential foodstuff of that society.
Thus, "making one's living" involves growing the grain and making the bread, either directly or indirectly. But the curse on the ground makes this or any other work difficult, involving hard work in a reluctant environment, but ". . . if any would not work, neither should he eat" (II Thessalonians 3:10).
Bread from Heaven
There was one special time when God's chosen people had to live in a hostile desert environment for forty years and could neither plant grain nor produce bread. In answer to their prayers, however, God "satisfied them with the bread of heaven" (Psalm 105:40).
That was the wonderful manna, which miraculously appeared on the ground each day there in the wilderness. All the work required in this special case was the effort by each person to gather as much as needed for that day (or, on the day before the Sabbath, for two days). The manna bread was actually called "the corn of heaven," and "angels' food" (Psalm 78:24-25).
Years later, when God had become man in the person of Christ, the Jews challenged Him to give them a miraculous sign, such as Moses had given them when he called for God to send the manna. But note the astounding response given then by the Lord Jesus:
. . . Moses gave you not that bread from heaven; . . . For the bread of God is He which cometh down from heaven, and giveth life unto the world (John 6:32-33).
The Lord thus claimed not only to have sent the bread which came from heaven, but to have been that bread!
I am that bread of life, . . . Your fathers did eat manna in the wilderness, and are dead. This is the bread which cometh down from heaven, that a man may eat thereof and not die. I am the living bread which came down from heaven: . . . and the bread that I will give is my flesh, which I will give for the life of the world (John 6:48-51).
But how can we eat such "living bread" as this? Not just our daily bread like the wilderness manna, but bread that will impart eternal life? "It is the Spirit that quickeneth" said Jesus, "the words that I speak unto you, they are spirit, and they are life" (John 6:63). When we hear—or read—His words, and believe Him by faith, whether or not we fully understand all the depths of spiritual truth they convey, that is enough! "Verily, verily, I say unto you, he that believeth on me hath everlasting life" (John 6:47).
The Words of Life
When we recall that Jesus not only spoke the words of God, but also that He is the Word of God (the Living Word), then we can remember that there is yet another marvelous meaning in the living bread. God told His loved ones back in the awful wilderness: ". . . man doth not live by bread only, but by every word that proceedeth out of the mouth of the Lord doth man live" (Deuteronomy 8:3). It was not some magic ingredient in the manna that kept them alive in the desert, but the integrity of God's Word. Jesus even rebuked Satan as He, in His humanity, was being tempted, by simply quoting this Scripture: "It is written," He said, "That man shall not live by bread alone, but by every word of God" (Luke 4:4).
Note that it is not just the general theme of the Bible that is vital, but "every word of God." It is important that each person appropriate the words of Scriptures into his own life, for they are life-giving food for the soul. As Jeremiah said: "Thy words were found, and I did eat them; and thy word was unto me the joy and rejoicing of mine heart" (Jeremiah 15:16). Or, as Job said: "I have esteemed the words of His mouth more than my necessary food" (Job 23:12). And in the longest psalm, there is this testimony: "How sweet are thy words unto my taste! yea, sweeter than honey to my mouth!" (Psalm 119:103). The words of God (that is to say, the words of Scripture) are not only spiritual bread, but also honey and milk and meat (note Hebrews 5:12)—our "necessary food," just as they were to Job long ago.
Even as Christ is the living bread that gives life to all who partake of that bread by faith, He is also the living Word, of whom it was said that "In Him was life" (John 1:4). Just so, the written word of God is "quick [that is `living'], and powerful" (Hebrews 4:12), and can give life to those who believe. It is only through the Scriptures, in fact, that we learn of Christ and His gift of eternal life.
"Search the scriptures," said Jesus, "for in them ye think ye have eternal life: and they are they which testify of me" (John 5:39). The apostle Paul wrote to young pastor Timothy concerning the power of the Scriptures as follows: ". . . thou hast known the holy scriptures, which are able to make thee wise unto salvation through faith which is in Christ Jesus" (II Timothy 3:15). The chief responsibility of Christians, therefore, is to be "Holding forth the word of life" (Philippians 2:16).
The Bread of the World
Bread is the staff of life for all people, wicked as well as righteous, but it is especially appropriate to speak of the living bread from heaven as received by those who believe in Christ and His word.
To believers, out of fellowship with God, however, the spiritual bread that God sends can be very bitter. The Bible speaks, for example, of "the bread of tears" and "the bread of sorrows" (Psalm 80:5; 127:2). This was said to be the spiritual food of those members of His elect nation Israel who were being chastened by God because of disobeying His word (by logical extension, this same principle would apply to disobedient Christians).
The figure of bread can also be used to describe the chosen beliefs and life styles of those who deny or refuse to submit to God. For example: "Bread of deceit is sweet to a man; but afterwards his mouth shall be filled with gravel" (Proverbs 20:17). Bitter bread indeed!
Another form of sin—that of careless and unfruitful living—is contrasted with the life style of the truly godly woman who "eateth not the bread of idleness" (Proverbs 31:27). Idle hands are the workshop of the devil, as the old maxim goes, for God intended man to work—even more so after sin came in, "In the sweat of thy face shalt thou eat bread" (Genesis 3:19), He has said.
In general, the spiritual food of the ungodly is their commitment to opposing the true Bread from heaven. "For they eat the bread of wickedness" (Proverbs 4:17). The Bible also mentions the "bread of affliction" (I Kings 22:27), "the bread of adversity" (Isaiah 30:20), and "the bread of mourners" (Hosea 9:4). Bread is thus both the widespread physical food of all mankind and also the preferred universal symbol of man's spiritual food, whether wholesome and life-giving or sad and bitter.
The Living Bread
For true life, men and women must live on both the written word of God and the Living Word. Likewise, they must have both the physical bread and the Living Bread, the true Bread of Life.
We should also remember that even our physical bread—and all our physical food—has been made and provided by God "who created all things by Jesus Christ" (Ephesians 3:9). In one sense, the Lord Jesus is even in the very molecular structure of the bread itself, as also in His entire creation, for "by Him all things consist" (Colossians 1:17) and He is now "upholding all things by the word of His power" (Hebrews 1:3).
No wonder the apostle Paul could tell even the skeptical evolutionary Stoic and Epicurean philosophers in first-century Greece that the God who created the world was "not far from every one of us: For in Him we live, and move, and have our being" (Acts 17:27-28). How foolish and wicked it is, therefore, to continue living on the stale and bitter bread of worldly deceit and sinfulness when one could be thriving on the Bread of Heaven!